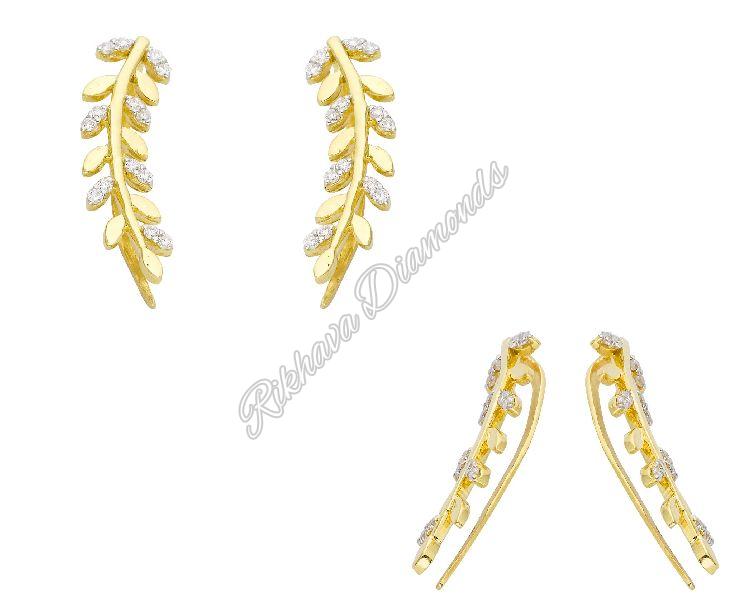 Most commonly these are referred to as ear sweeps, ear pins, ear climbers or ear crawlers. These are trending nowadays. If you are someone with bobbed or cropped hair then these diamond ear climbers will work great for you. These ear climbers add a statement to any simple look without making you look too overpowering.

The ear climbers are mostly curved or straight in shape. If you are someone who keeps losing their earrings then you must own a pair of ear climbers are they are the correct solution to match up with the lost earrings. You can just wear one of the climbers on an ear with one single earring on another ear. It will give you a stylish look with an intent. The diamond ear climbers look good with studs. You can just wear one climber on an ear and one stud on the other ear.

How to wear Diamond ear climbers?

• The simple way of wearing the diamond ear climbers is by threading the post of the ear climber through the piercing on your ear. You have to hold the ear climber and then locate its curved long post. Then place the post\'s tip through the piercing you have and then continue to thread it all the way fully through your ear piercing.

• After that, you have to flip the ear climber. Once you are done with threading your ear climber fully through the piercing, all you have to do is flip up the ear climber. Just make sure, you earlobe stays nicely gripped between the post and of course the front of your ear climber.

• After you've placed the ear climber in its proper place all you are left to do is give the ear climber one gentle squeeze and secure it in place. You should feel that your ear climber is secure. But it should not feel pinching on the earlobe.

Choose and style the right diamond ear climbers-

• You can always experiment with your style. Try to go for a unique shaped ear climber. Wearing any unique shaped diamond ear climbers can instantly add dimension to your look.

• Style your diamond ear climbers as statement pieces. Let them shine and take all the centre stage. Don't over-accessorize. Keep the other jewellery at its minimum so that your ear climber gets entire attention. Just pair one bold ear climber with any simple ring.

• If you wear multiple jewellery pieces then make sure each one gets its proper space. Wear your diamond ear climbers, but also keep in mind the other pieces should be visible too. Don't put the pieces too close to one another, or else it will look too overcrowded. It is suggested that you stick to one of your diamond ear climbers and maybe one or two pieces in your upper ear.

Choosing the right diamond ear climbers and correctly styling them can add a statement and dimension to your entire look.

There are many diamond ear climbers' exporters but you should always look for the best. Choose a company who is known for its good quality product. As you will not want to wear an ear climber of some cheap quality.

So, choose carefully and go for the best-reputed diamond ear climbers exporters which you can find.