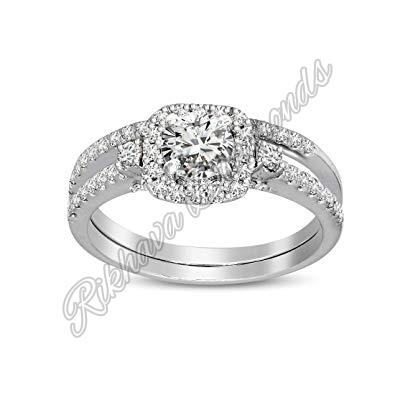 Cherished as a luxurious possession, diamonds will never go out of fashion. The craze and fascination over this ultimate gemstone have remained unchanged since ages. Whether it is your anniversary, wedding or engagement, a beautifully crafted solitaire ring can be a great gift to bring a smile on your loved one's face. Beautifully crafted diamond rings give a dash of elegance to every hand that wears it. Available in an array of designs and cuts, diamond rings and other gemstone ornaments go perfectly well with every kind of outfits be ethnic or modern.
What to consider while buying diamond rings?
With the right information, you will be able to spend your budget on the diamond qualities that are most important to you. Besides your budget and diamond size, you have to consider the 4Cs of diamond quality to make a confident buying decision.
Popular types of diamond rings:
Based on shape and cut of the diamond, designs, type of setting and metal used to make the band, diamond rings are usually classified in several types. The most common and popular types of diamond ring are solitaire, pave rings and rings with side stones.
• Solitaire: Boasting one single diamond, solitaire rings are possibly the most popular style of engagement rings available in the market. It is the best suited to a woman who prefers a classic and elegant style.
• Halo: In this style of ring, the gemstone in the center is encircled by a "halo" of smaller diamonds to make it appear bigger.
• Three-stone diamond ring: Sporting three gemstones, the three-stone diamond ring can be a wonderful anniversary gift for your spouse.
• Pave rings: Crafted with tiny diamonds that are set as close together as possible on the band, pave rings are endeared by women of all ages.
The highly reckoned diamond engagement ring exporters in the country offer an excellent range of beautifully crafted certified designer diamond jewellery at reasonable rates catering to the various needs and budgets of buyers around the world. Offering an exquisite range of rings and gemstone jewellery; the suppliers from India have ensured a strong position in the global ornament industry. Following are some of the factors that the suppliers and dealers of diamond rings always consider to retain their popularity in the market.
• Their offered products are manufactured in compliance with the pre-defined industry norms to ensure flawless quality.
• With years of experience in the diamond industry, they always help customers to understand diamonds and make the right choice at the best price.
• They examine every single product on several stringent quality parameters before forwarding them to the marketplace.
• The trusted IGI certifies diamond ring suppliers ensure the on-time and safe delivery of the orders.
• From excellent quality, impeccable design to blazing-fast delivery, everything is well-taken care of by the suppliers.
• With the help of a wide distribution network, they can easily cater to the bulk and urgent orders of diamond rings across the world throughout the year.
• Oozing elegance and royalty, diamond rings can be the best gift for your loved ones.