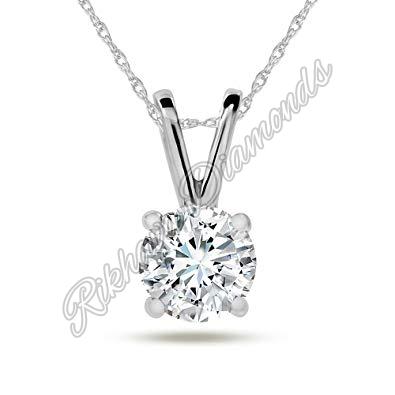 A diamond pendant is actually a necklace that consists of a central diamond that is attached with help of a small loop to a jewellery chain. This jewellery chain is mostly made of some precious metal, usually platinum or gold. The word pendant was derived from the Latin America word pendere which means 'to hang'. It simply means describing something which hangs on a chain. People usually gift a diamond pendant as a memorable gift to someone they love as the pendant is often considered to be a symbol of love or eternal love.

Types of Diamond pendants
Diamond pendant Exporters in Mumbai can make customers any style of diamond pendant for their loved ones according to their tastes and requirements. There are many different types of diamond shapes and other beautiful gemstones that can be chosen by the customer from a large range of pendant styles. Some of the popular names among diamond pendants are given as follows :

• Diamond solitaire pendant: The diamond solitaire pendant is an elegant necklace considered as the classic style necklace. It contains just a single gemstone usually a diamond. The gemstone has a stand alone feature on it's own. This gemstone can be made up of yellow gold ,white gold or platinum in certain cases. The diamond solitaire pendant consists of the stone which is set at the end of the chain that can be found in a setting of prongs. Experts consider that the open setting of a such a pendant allows a good amount of light to get in the diamond which simply adds up to it's brilliance.

• Diamond heart pendant : Just like it was said before, diamonds act as a symbol of love among people. So diamond jewellery can be considered to be in high demand among people who want to gift them to their close and loved ones. The heart shape of this pendant can easily represent love better than any other piece of jewellery. Customers can select either fourteen carat or eighteen carat gold to be used in the diamond pendant. The main characteristic of this type of gold is it's durable nature that allows it to be used for several years.

• Dancing Diamond pendants: Dancing diamonds are considered to be a unique invention in the field of diamonds. Their unique design allows the diamonds placed at the centre of the pendant to move or 'dance '. Due to the diamond's continuous movement, it reflects light from various angles and allows it to show it's brilliance . There are different ranges of dancing diamond pendants that are available in the market. They can be of various shapes, sizes or styles. Dancing diamonds are often passed down for generations in families due to their popular appeal. A Company which is considered as diamond pendant supplier in Maharashtra would recommend their customers to gift these pendants to their special ones on various occasions like wedding anniversaries, valentines day, wedding day, achievements of a person in their field of work, promotion parties at workplace and more.

Tips to remember before buying a diamond pendant

• Quality : Quality of a product like diamond should always be the top priority of a customer before choosing one. The Gemological Institute of America or GIA and American Gem Society or AGS certificate of a diamond should be checked by the customer as these eared considered to be the most renowned and top entities for reliable grading of diamonds.

• Cut : The cut of a diamond ensures that it reflects back the maximum amount of light that hits it's surface. There are some ideal diamonds in the market which are known to be the best cut stones.